Gauge
CREATIVE DIRECTION // USER EXPERIENCE // PRODUCT DESIGN // EMAIL // COPYWRITING
Dyn's first ever chrome extension provided a free way to test your personal internet performance from your browser. It was a pet project, born from an innovative product manager and software engineer who liked to problem solve. A small spark turned into a mini tech phenomenon. Gauge was a zero priority project driven by passion and curiosity. With the functional pieces mostly intact, it was a back to forward design project when it landed on my lap. It had been designed by the inventors in a start-up bootstrap fashion, and needed to not only look like it came from Dyn, but to work for the average internet geek. With every tweak we made in the UI and flow, the experience exponentially improved—like adding gasoline to a fire. Happening in tandem with the product and brand update, Gauge was the first of Dyn's UIs to take on the new style that bridged the gap between marketing and product. Within a month, it landed on Gizmodo's "Most useful chrome extensions ever made" list, and this project proved for our tiny team of rebels that following your passion leads to amazing things.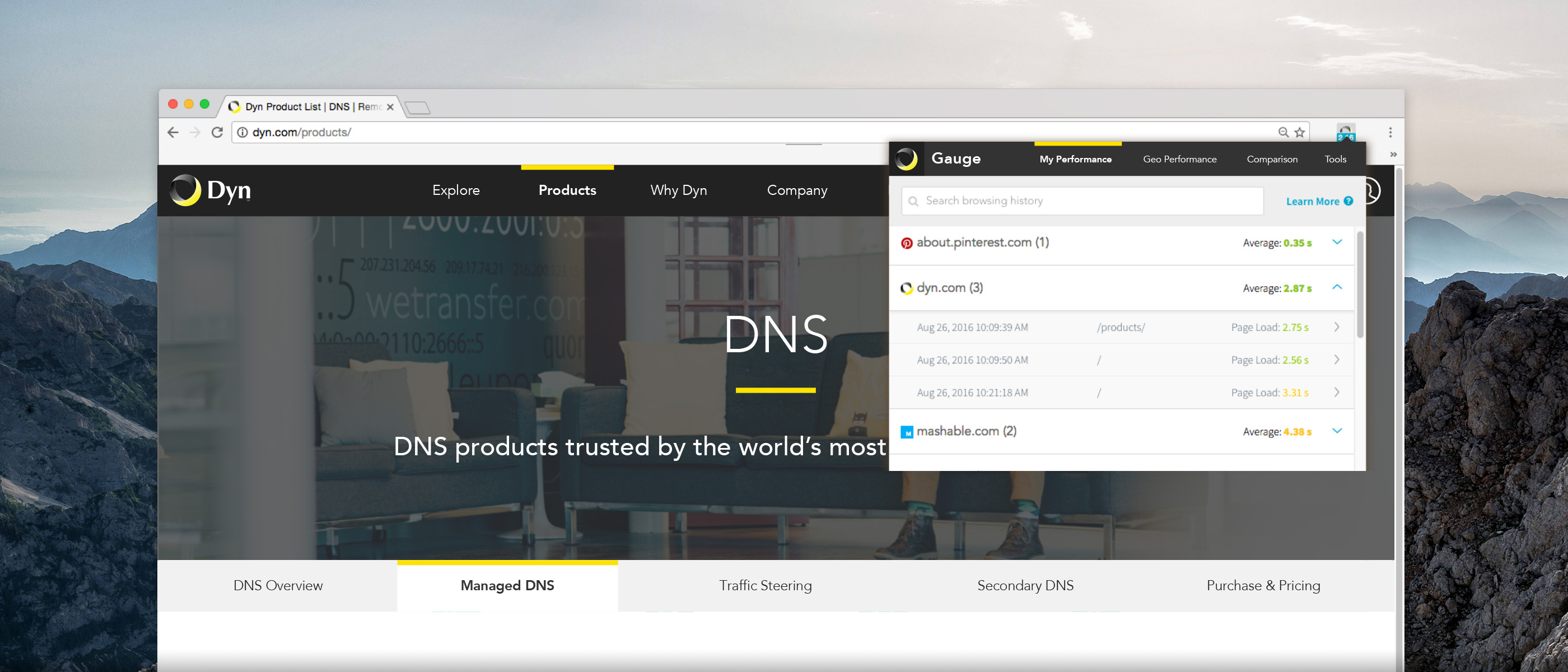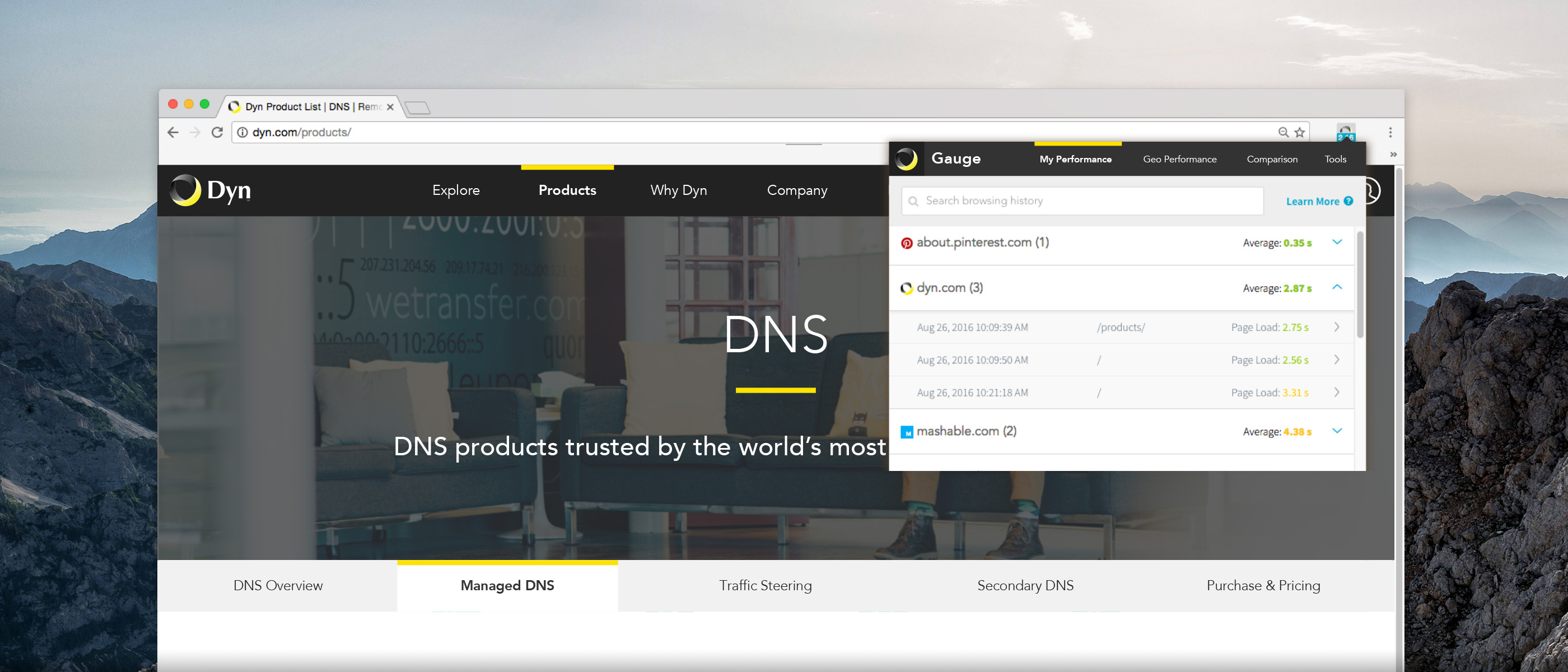 Evolution of a UI: My Performance
Because of the nature of this passion project, development started before design got involved. The team had an open mind and valued experience over all else, so reworking the UI and some of the navigation patterns was in the effort budget. As the first deployed test of our new UI patterns and identity (formulated to create a seamless experience from marketing to product), our Chrome extension became the most forward-thinking and unified experiences we had ever put out into the universe. The idea was simple: Find out what users need, why they would want to download Gauge and give them those features up front. We gathered feedback, integrated our findings in our UI on a regular basis.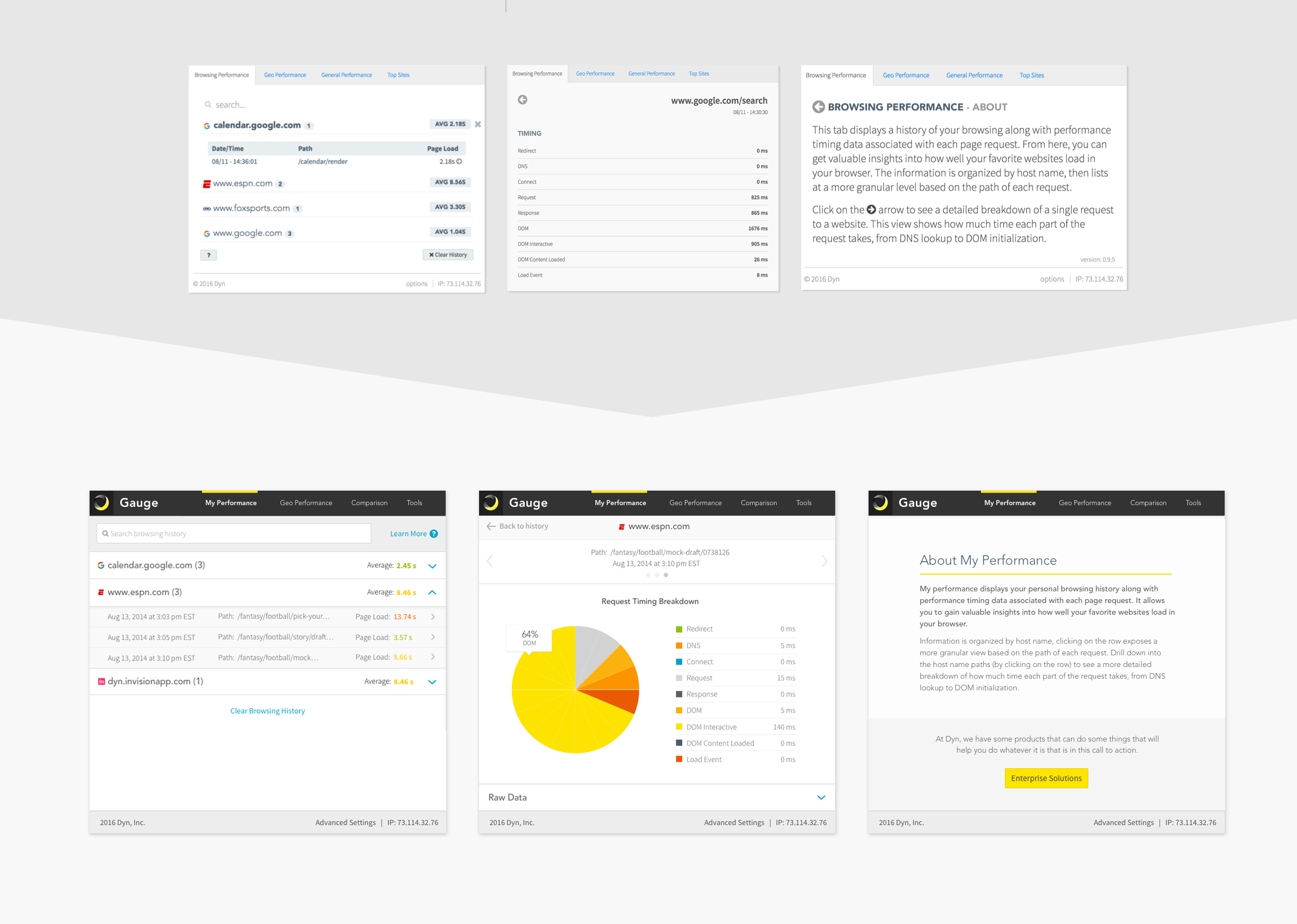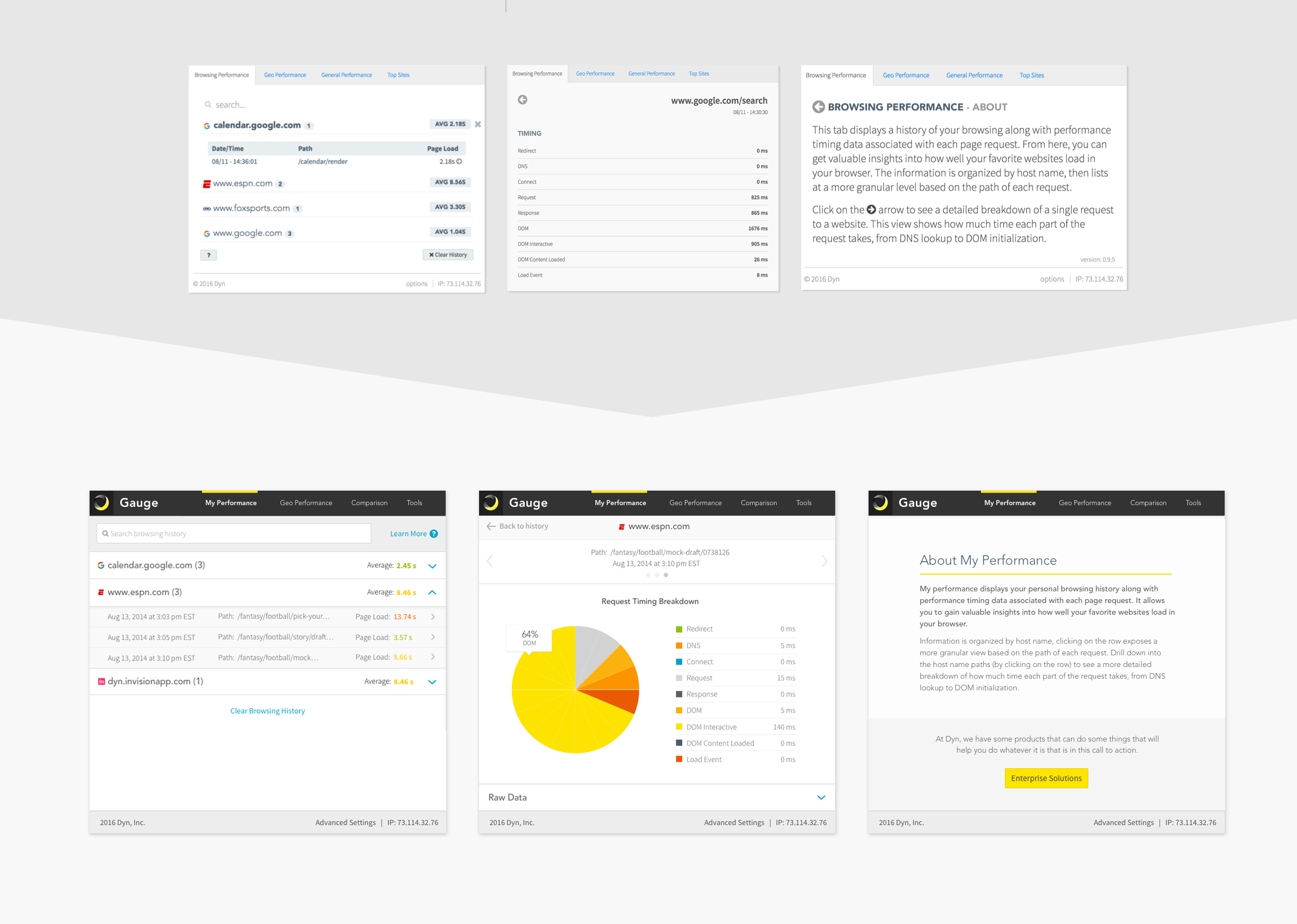 The Result
Data visualization and maps of the health of the internet on a global scale made our Chrome extension a powerhouse. The ability to see not only individual performance on your machine (and drill down to find where problems were arising), but compare your data to the internet as a whole in a free product was completely new to the market. And for the business, we were gathering internet health data and making our own products smarter and more effective along the way. Gauge also serves as an introduction to Dyn's "Internet Intelligence" product, giving users a small demo into what working with Dyn could do for their enterprise business.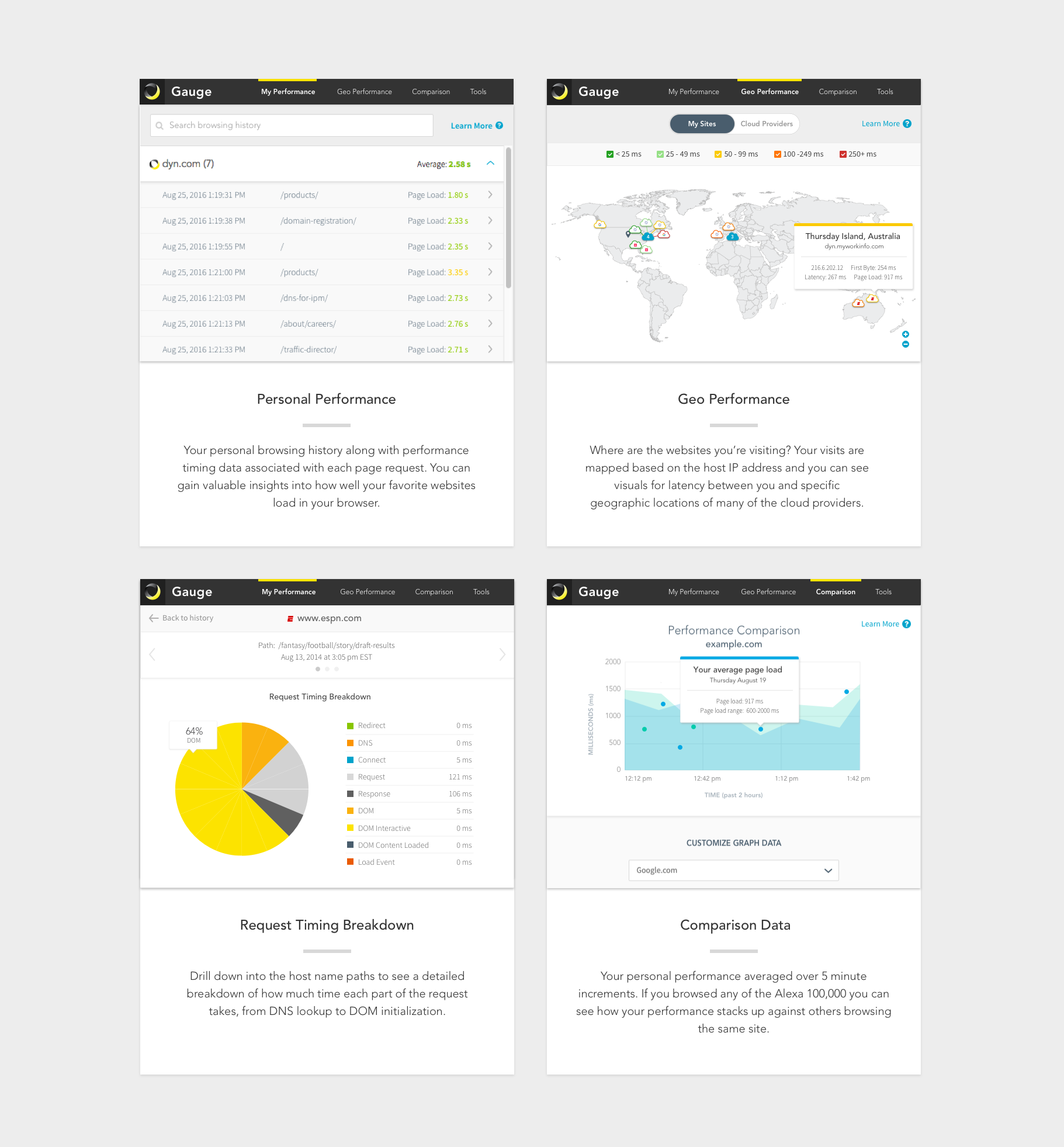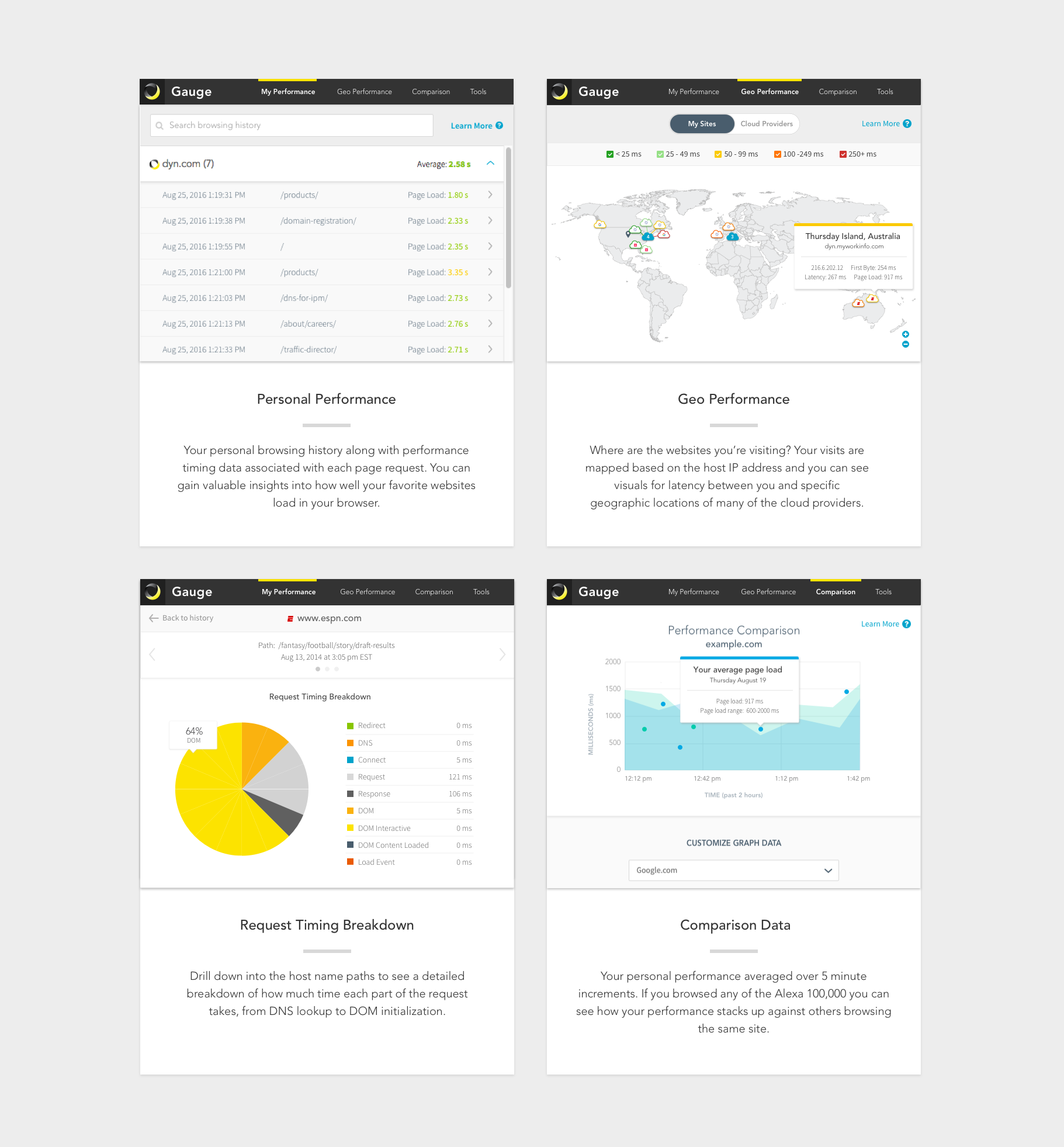 Want to check it out?
If you're interested, you can download Gauge from the chrome web store for free! In addition to tracking and comparing your internet performance, you can also geek out on tools and features like DNS lookup and whois, as well as troubleshoot connectivity and speed issues.
[unex_ce_button id="content_0pwqpwgou" button_text_color="#00373f" button_font="bold" button_font_size="15px" button_width="auto" button_alignment="center" button_text_spacing="2px" button_bg_color="#ffffff" button_padding="15px 60px 14px 60px" button_border_width="2px" button_border_color="#00373f" button_border_radius="0px" button_text_hover_color="#ffffff" button_text_spacing_hover="2px" button_bg_hover_color="#00373f" button_border_hover_color="#00373f" button_link="https://chrome.google.com/webstore/detail/gauge/ojijfifnfjaolmmmdgpaikekjddijkgl?hl=en" button_link_type="url" button_link_target="_blank" has_container="1" in_column=""]DOWNLOAD GAUGE[/ce_button]