Dyn.com
CREATIVE DIRECTION // USER EXPERIENCE // E-COMMERCE // PRODUCT DESIGN
PRINT // ICONOGRAPHY // COPYWRITING
As a tech company in the mill buildings of Manchester NH, Dyn as a business had grown faster than the brand, product UI, and web presence could keep up with. Coming in with fresh eyes and working across channels, we updated the brand and mapped the threads of customer experience from beginning to end. The web relaunch took on tough problems that are not uncommon to start ups with exponential growth: A confusing product naming system built organically throughout the history of the company, thousands of homeless web and landing pages, multiple brands and blogs under one roof, a mega menu and information architecture that would make anyone's head spin, a brand without guidelines and tone of voice, a product UI straying from the parent brand, and a battle for ADA compliance and an accessible UI throughout the product and web experience. Using design led-thinking, personas, goal-mapping and user-testing, we not only gave the website a beautiful new UI, but we built it on a structure that was tested and scalable in the long term.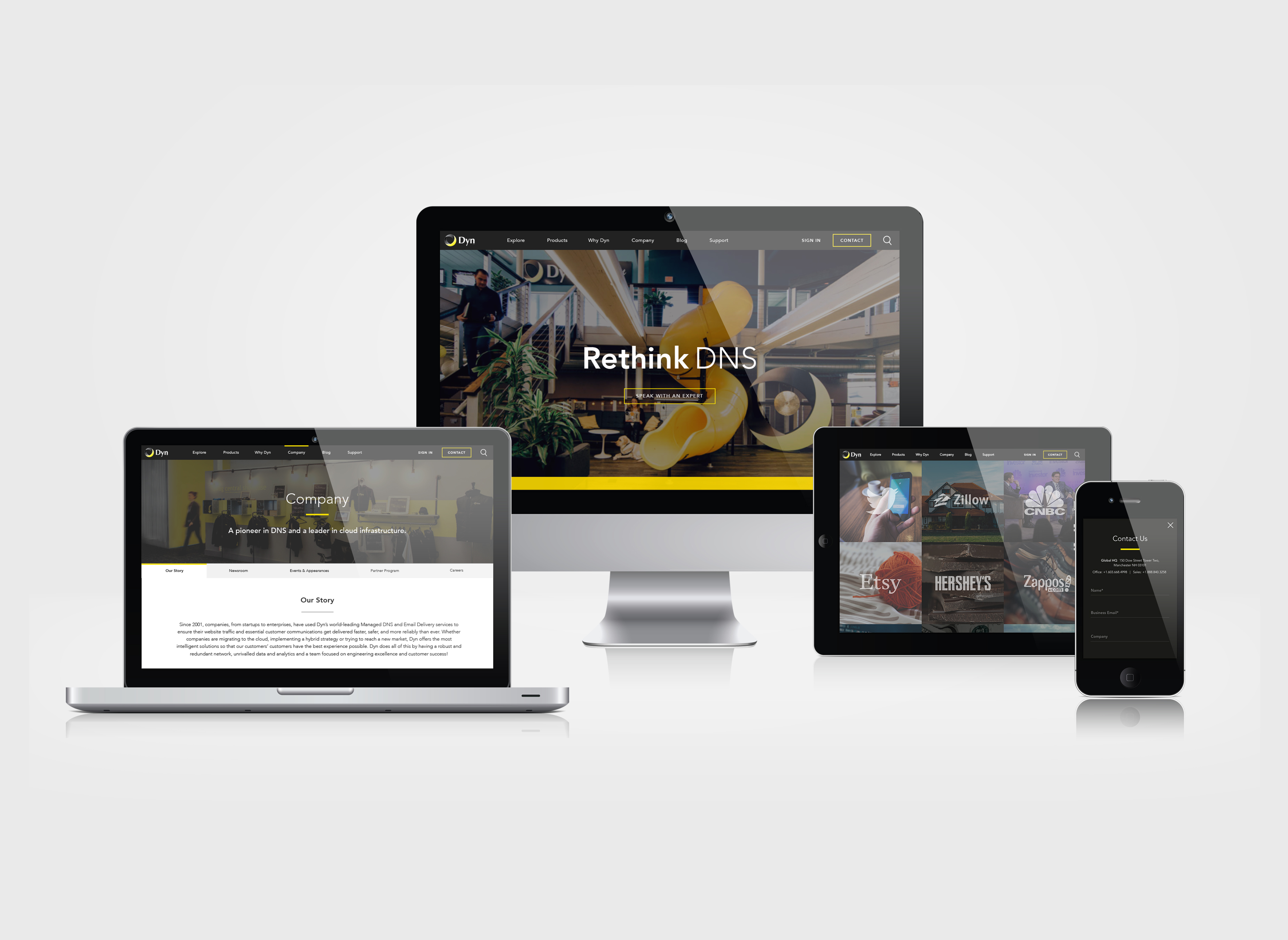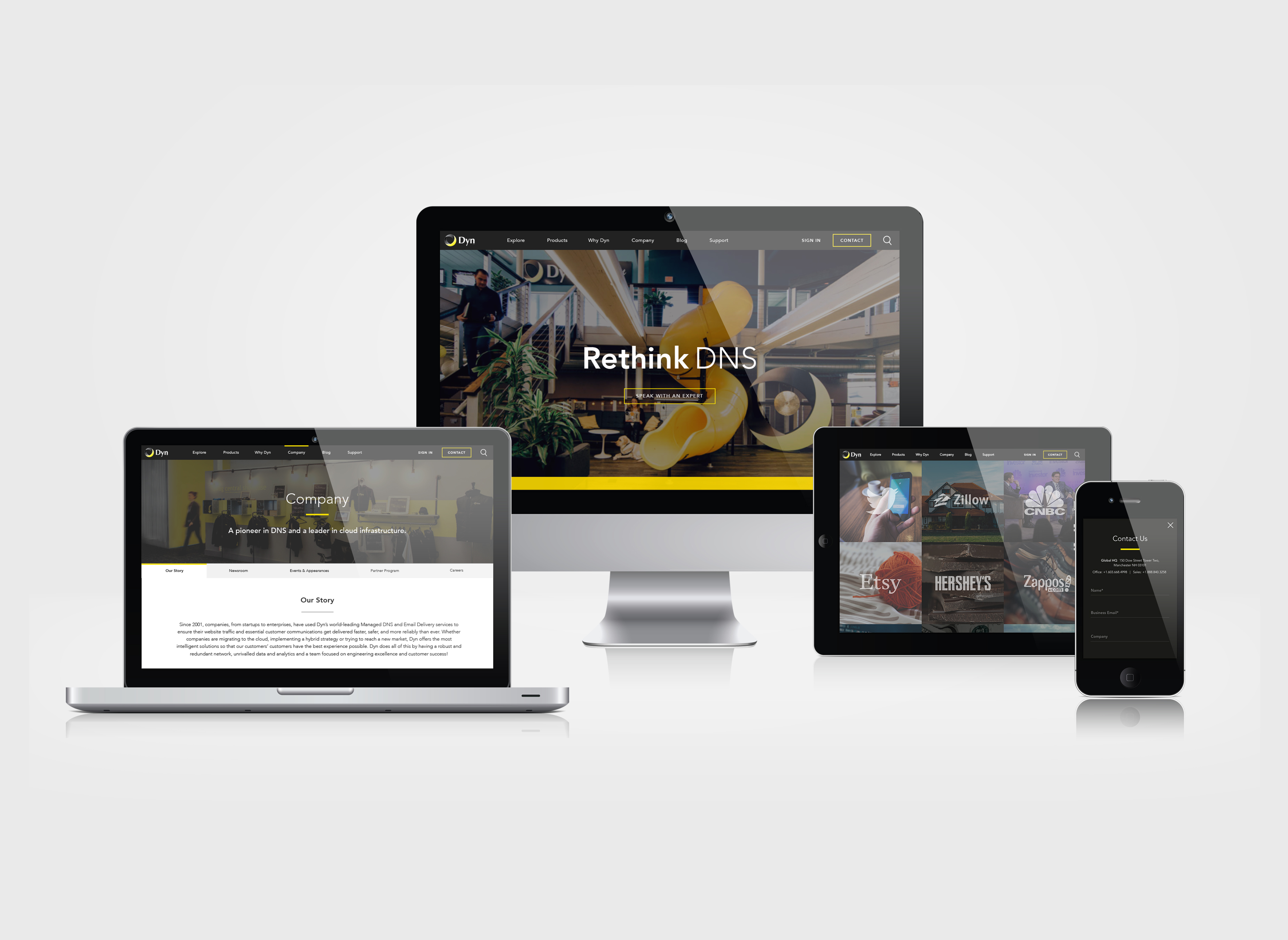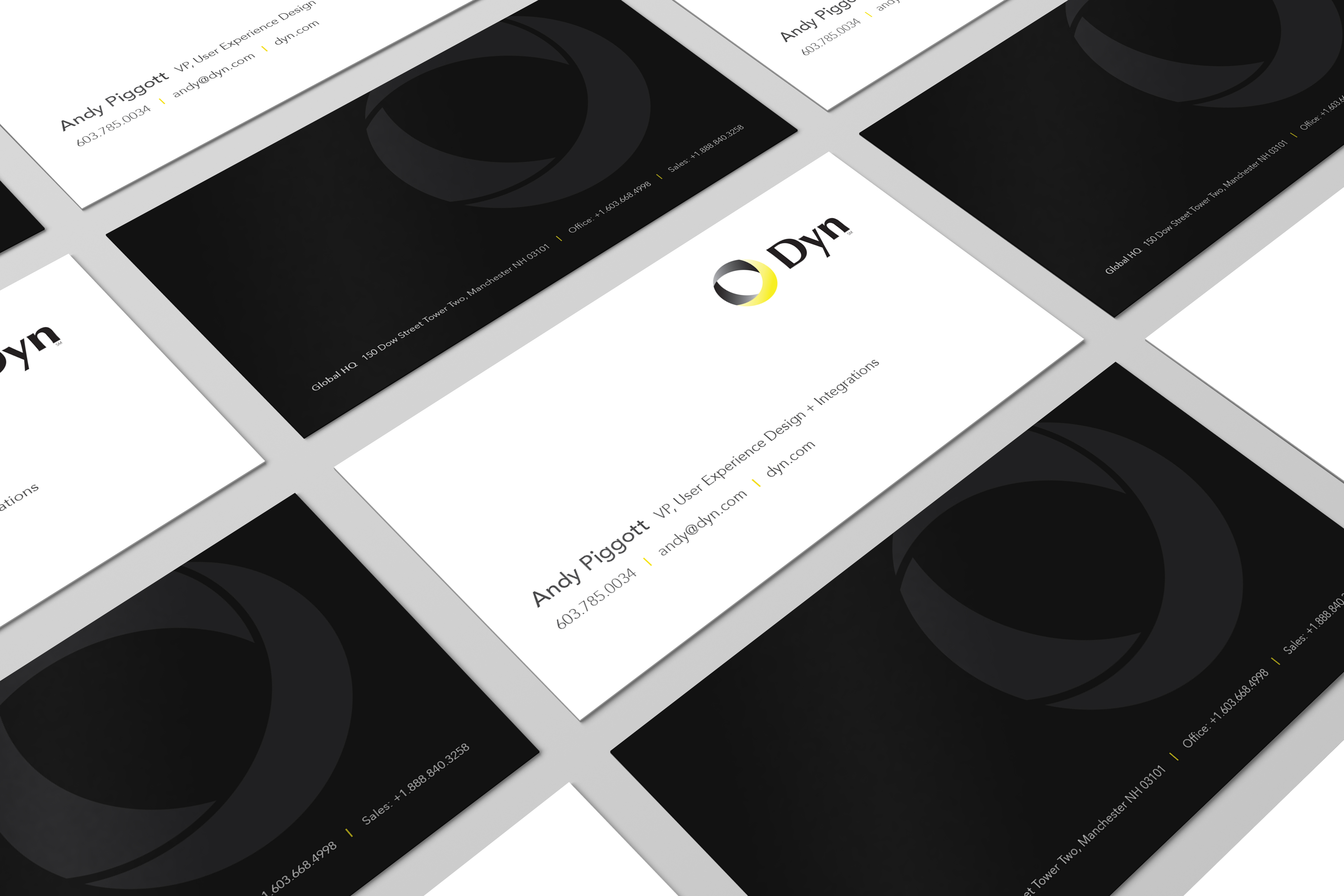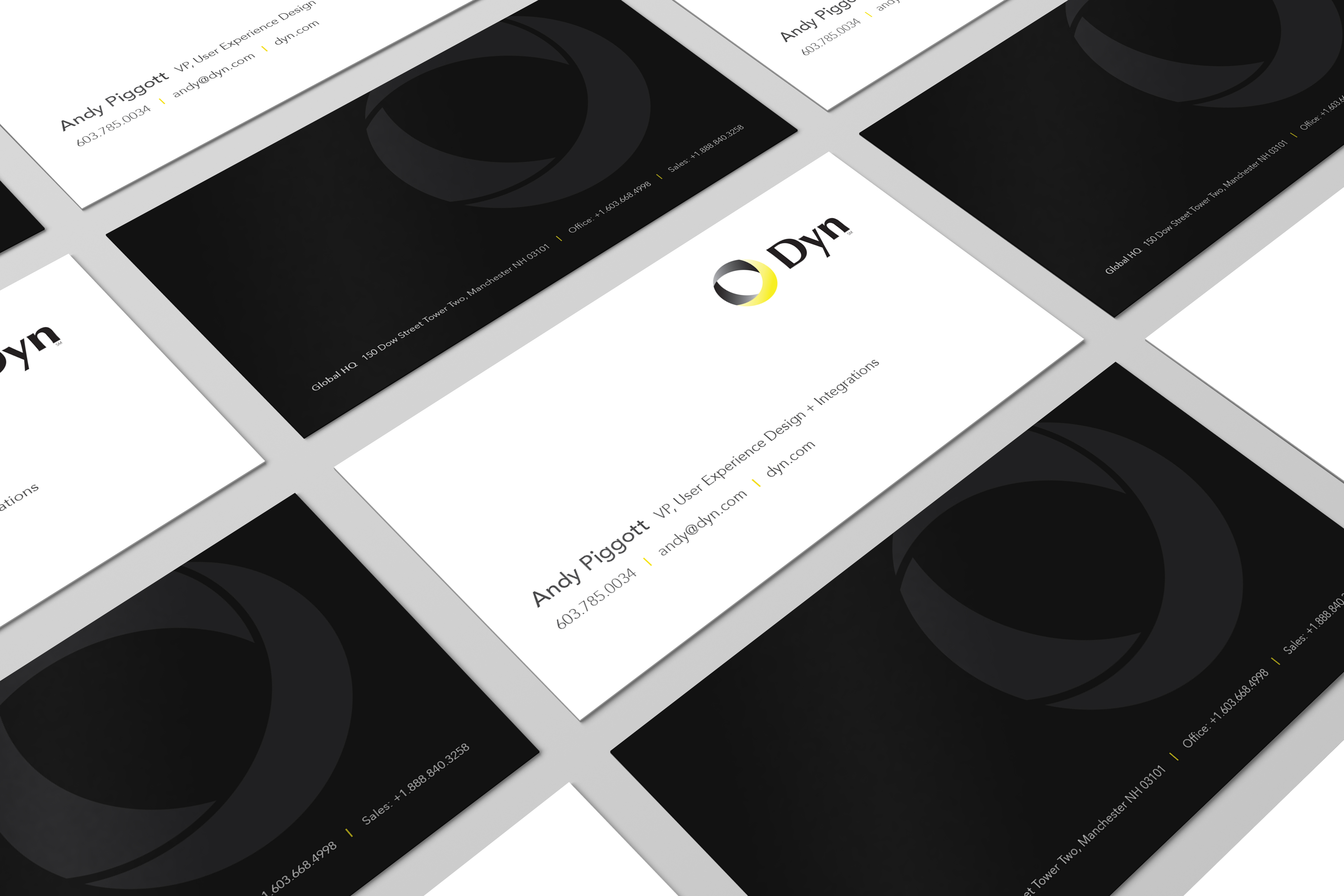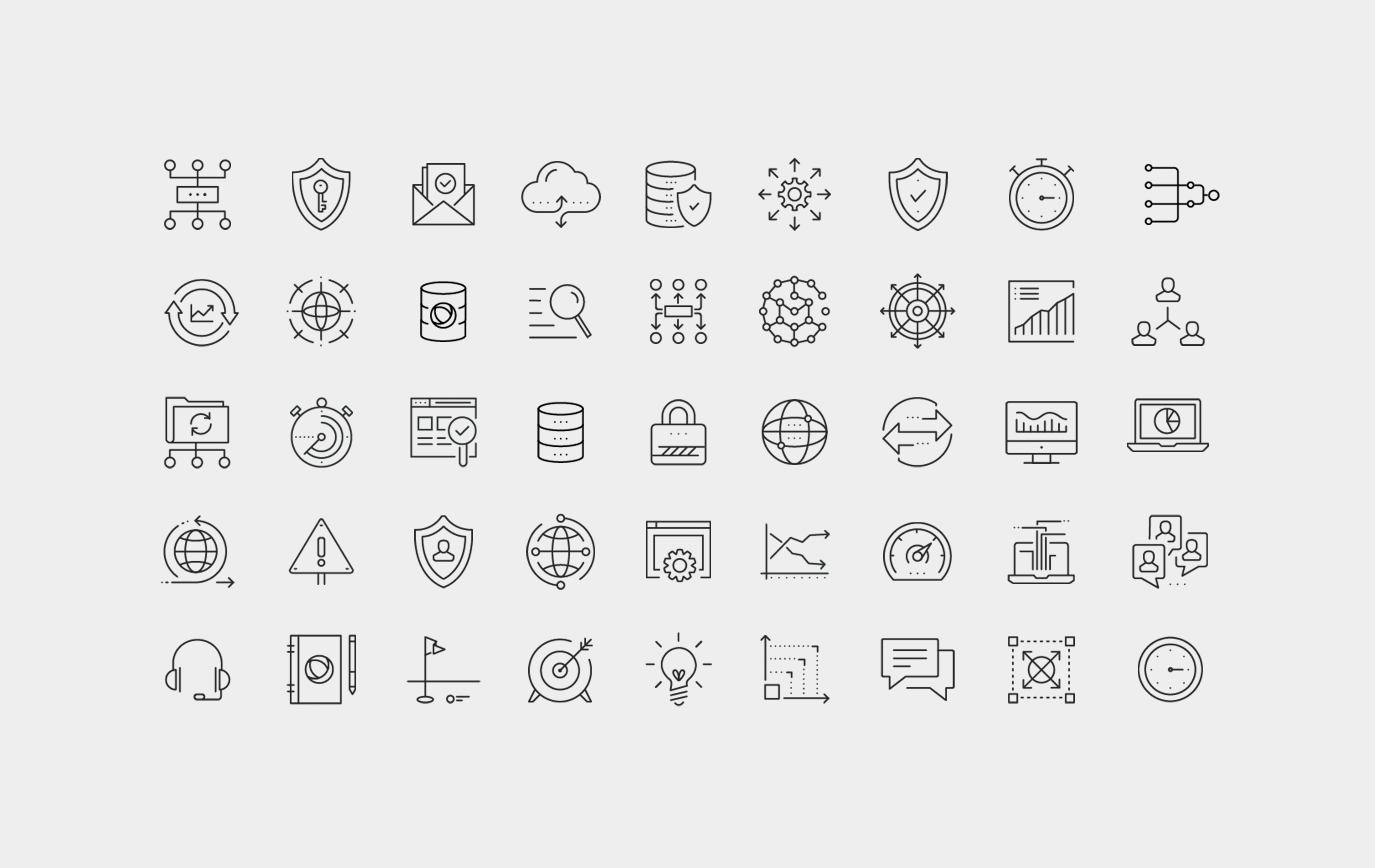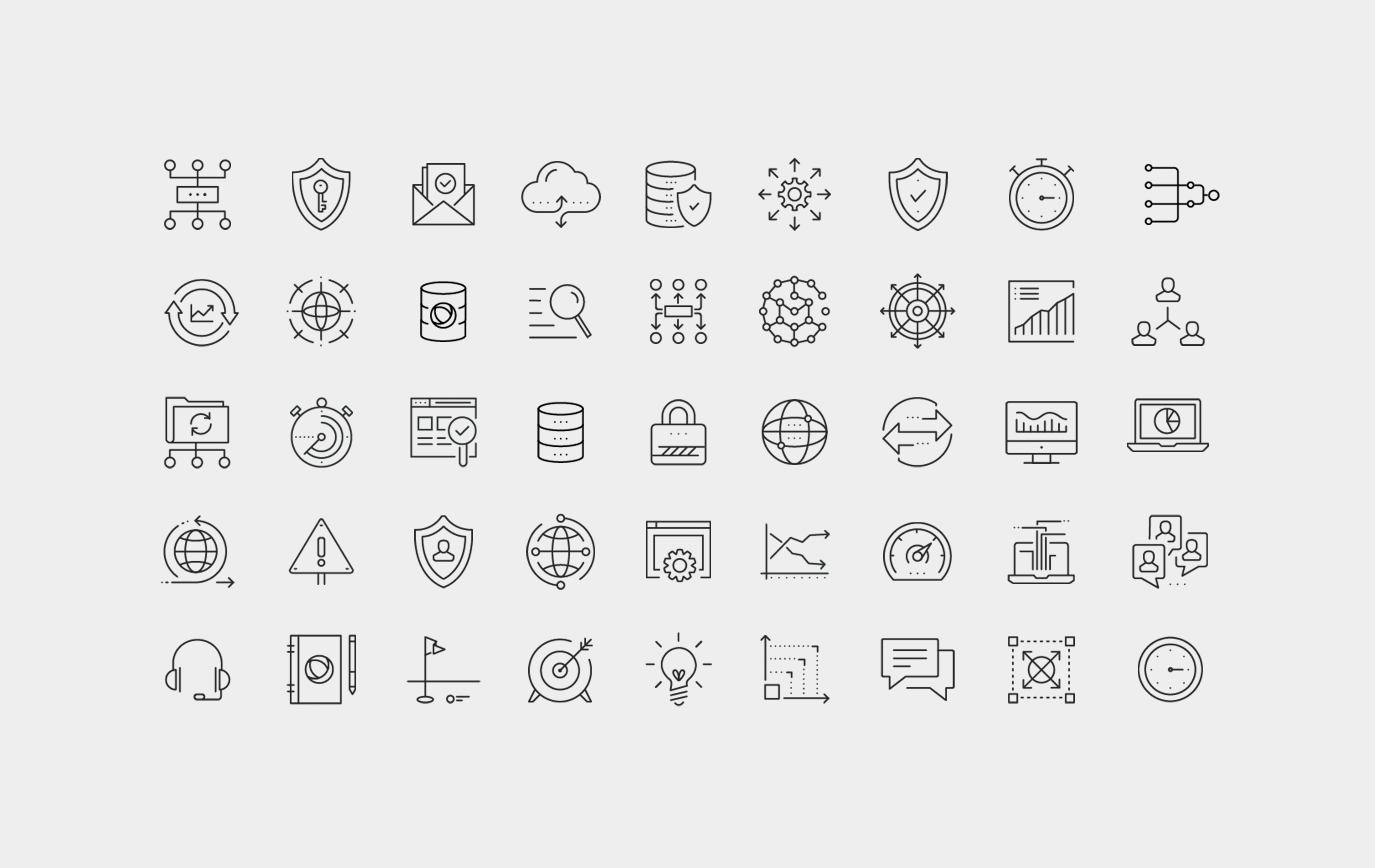 Updating the visual brand
In any given Dyn office around the world, an employee was pulling an out-of-date, tired and inconsistent brand standard document out from their download archives. Unknowingly, with each powerpoint presentation, landing page, and blog post they created, these diligent well-intentioned soldiers were adding to the chaos. Without an image library, icon set or guidelines, and a color palette that had gone off the rails, it was the wild west. Product UI had evolved ahead of marketing—but with an entirely different interpretation of the brand standards altogether. Not able to keep up with the rate of growth, the brand experience had broken.
In a sea of blue tech companies, Dyn's bold, unforgiving color palette set it apart from the competition and was a huge part of its success. Beloved and sewn into the fabric of company culture (just look at the bright yellow slide in the center of HQ!) Dyn yellow was sacred, though misunderstood among employees. Not knowing exactly how to use it, secondary color palettes had overtaken the brand.
"Back to our roots" was my mantra as we swept through Dyn.com, the platform UI, social channels, and landing pages. Creating a custom illustration and icon set for complex internet infrastructure terminology (like secondary DNS or active failover for example) meant digging deep, having conversations and asking questions all around the office. Goal mapping a user journey led us to a testable and solid information architecture. Our navigation pattern was designed to persist through to the product UI, creating a seamless customer experience. Art directing a photoshoot with the talented Matt Kalinowski meant we had a library of images to set the tone and base growth off of. Building the website from scratch meant we could create the user journey, populating the sales funnel with the right kinds of customers and inquiries. A once bold and relentless brand had resurfaced, modernized and intentional.